Twitter has completely changed the television viewing experience. If you're on it, you know what I mean. Whenever a BIG TELEVISION EVENT happens, Twitter lights up and it's impossible to avoid because everyone is writing about the same thing.*
*as I type this a dozen people on my Twitter list bitched about Ryan Seacrest at the NFL game.

Good luck avoiding spoilers. When a show airs you're interested in watching but NOT THAT SECOND you have two choices:
1 – Just shut Twitter down for the night
2 – Live with the chance that someone is going to spill it because they forget not everyone is watching live
I'm an Option One kind of person. By now I know enough to go Twitter dark on such occasions.
But even if you happen to avoid spoilers and the HOLY FUCKING SHIT YOU GUYS DO YOU BELIEVE WHAT WE JUST SAW kind of tweets it doesn't mean you're completely shut-out on the discussion. The popular shows become part of INTERNET CULTURE. Don't watch Mad Men or Breaking Bad or Game of Thrones? You're going to feel like the loser in the classroom because that's all THE INTERNET wants to discuss the following day.
Now. If you aren't on the Internet regularly? If Twitter to you is just a stupid word and it's just a bunch of people sharing what they're eating? If you've never read a blog or a board? You could be forgiven for never hearing about Breaking Bad. The Red Wedding is meaningless.
But this blog post isn't for you.
I don't watch most shows live. It's actually pretty rare. But I do generally keep up with the big ones within a day of them airing since becoming old enough to pay for my TV services.
There have been exceptions, though, and giving in and binging becomes the only possible option because INTERNET BUZZ is just too overwhelming. Sometimes I give in and I'm glad. Prior to the final season of Battlestar Gallactica the hype was huge and I got caught up before what ended up being one of my favorite series finales ever.
But other times? Other times I get Breaking Bad.
Breaking Bad, the final season, is happening right now. The finale is in a few weeks. It promises to be a BIG TELEVISION EVENT. Over the last month or so we've been getting articles on where the show ranks among the all-time greats, and if you're to believe the critics and the rabid fanbase you're going to see it right at the top of the list.
I gave it a shot, sort of, once before. Back in season two I fired up the pilot, fell asleep and forgot about it for three years.
It was only after the Internet Hype hit critical mass that I gave it another go. Whether I liked it or not, I would watch three seasons.
I did, I liked it…kinda. Not really.
A mark of a TV show I'm likely to love is based on some really basic criteria:
• Does it invoke emotion? Does it make me laugh? Does it piss me off? Does it shock me? Any kind of emotion is a good thing. Furthermore, am I emotionally invested in the characters or the story?
• Am I going to want to randomly re-watch an episode six months or six years from now?
• Does it have characters I can either identify with or root for?
• Is it memorable or is it forgettable?
Breaking Bad fit none of the above. I gave it three entire seasons, and what I got were awful characters, a glacial pace and forgettable (if not repeated) plot lines.
I didn't give a shit about anything I was watching.
A character dies? Fuck it, I didn't like them anyway. Something bad happens to Walt? He's a shitty person so fuck him. It isn't funny, it's light on the BIG EVENTS, every episode rolls together because it's closer to one 10 hour movie as opposed to a series of episodes with their own individual mini-stories.
I gave it three seasons. I peeked ahead to see if I was going to miss out on anything Earth shattering. Nope. Season five sounds like the exact same boring shit with the exact same boring and deplorable characters.
I gave up.
I'm a firm believer in there's no such thing as a guilty pleasure. Like what you like. No, scratch that. LOVE what you LOVE. Get totally invested in what you want, embrace it and make no apologies. If someone gives you shit? FUCK THEIR INSECURE ASS.
Breaking Bad isn't for me. I don't think it's a bad show and I can see why others may love it (I guess) but it doesn't hit any of the notes that make for great television according to my checklist.
Update: After the INTERNET HYPE got huge, I watched the final three episodes of Breaking Bad. I loved them all. They were brilliant and amazing and incredibly entertaining. Do I regret skipping season 4 and most of season five? HAHA NOPE.
Look: if anything in the first three seasons was anything close to the final three episodes, I would have kept going. There wasn't.
So…what does?
YOU SAID IT, PAL.
Let's make us a list. God knows I love them.
Coming up with a list of my favorite TV shows wasn't incredibly difficult. For one, I didn't even really start watching a lot of TV until my mid to late 20s. There was the rare show that got my attention during college, but they were few and far between. It only took me a handful of minutes to come up with every show I'd watched enough of to have an opinion on.
I'm gonna rank 'em. Let's freaking roll.
The NOT YET
I will eventually watch these. I have no opinion on them yet:
• Downton Abby
• Boardwalk Empire
• Dollhouse
• Bob's Burgers
• Modern Family
People seem to like them quite a bit and I'll give them all a shot.
The MEH
These are shows I've watched over the years that I've watched enough to have an opinion, but lost me. Might have happened after a season, might have happened after three. But one way or another I gave up and I doubt I go back.
• Mad Men
• True Blood
• Parks and Rec
• Louie
• The Killing
• Girls
• Eastbound and Down
• The Sopranos
• Dexter
• Californication
• The Tudors
• Six Feet Under
• Weeds
• Breaking Bad
• Entourage
• Nip/Tuck
• Homeland
• Gossip Girl
• The Walking Dead
• How I Met Your Mother
• Community
• One Tree Hill
• Heroes
• Friday Night Lights
• The Office
• Chuck
A lot of people love a lot of these shows. In most cases I get why. But I lost interest in all of them.
The REALLY PRETTY GOOD
These shows are good. I've watched every episode. They're just not my favorites:
• Lucky Louie
• Lost
• Cheers
• California Dreams (YUP. GOING DEEP ON THIS ONE)
• MacGuyver
• The Wire
• Damages
• The Simpsons
• Sleeper Cell
• Seinfeld
• Coach
• The Fresh Prince of Bel Air
• The Shield
• NYPD Blue
• Rescue Me
• Smallville
• 24
• Invasion
• House
• Jericho
• V
• The LA Complex
Some of those were tough to leave off. I grew up on Coach, Fresh Prince, Seinfeld, Cheers and MacGuyver. 24, House, Lost, NYPD Blue and Smallville were great for binge watching. The LA Complex, V, Jericho, Sleeper Cell and Lucky Louie should have gone on for a lot longer than they did. You really need to watch these shows if you missed 'em.
Seriously. THE LA COMPLEX. It's insanely twisty and every episode has a cliff hanger. Watch it.
The NOT YET.
These shows may be worthy of rank at some point. They're still going on and I love them but I need to see more:
• Pretty Little Liars
• New Girl
• Once Upon a Time
• Revenge
• Hannibal
• Haven
• Arrow
• Person of Interest
• The Newsroom
• Hart of Dixie
• Scandal
• American Horror Story
• Castle
• Shameless
• Suits
• Veep
• White Collar
Of the ones on this list, Hannibal, Arrow, The Newsroom and Pretty Little Liars are the best bets to become all time favorites. BECAUSE TWISTS AND STUFF.
Here is THE RANKING.
Alright, folks. Let's do this.
the RELIABLE COMEDIES
34 – Scrubs
33 – Will and Grace
32 – Family Guy
31 – 30 Rock
Pick an episode out of a hat and I'll find myself laughing at some point. Nothing groundbreaking or too amazing, but having a show you can rely on for consistent LOLs is hella huge.
Karen Walker is my spirit animal.
The BINGE WORTHY
30 – It's Always Sunny in Philadelphia 
29 – The League
28 – Cougar Town
27 – Psych
26 – Better off Ted
MOAR COMEDIES.
I will legitimately laugh my ass off if you flip on one of these shows.
Better Off Ted was lightning in a bottle that deserved more seasons.
Psych, Cougar Town and Always Sunny have overstayed their welcome, but they're all hilarious and perfect lazy Saturday Netflix material.
The DRAMA DRAMA DRAMA
25 – The Practice
24 – Sons of Anarchy
23 – Game of Thrones
22 – Justified
21 – Nikita
All of these shows have issues. I don't really care so much because when they're good they're REALLY FREAKING GOOD.
I know you're not watching Nikita. You're missing one of the best, smartest most twisty spy thrillers to ever hit TV.
The Practice won't be the last David E. Kelly appearance on this list.
And Art is the best.
The CRIMINALLY ABANDONED
20 – Veronica Mars
19 – Sports Night
18 – Reaper
17 – Studio 60 on the Sunset Strip
16 – Firefly
Fuck.
To hell with every executive responsible for killing these shows before their time.
Everyone knows Firefly and Sports Night and Veronica Mars were great.
I'm here to beg you to see the critically slammed Studio 60 and the basically never watched Reaper.
Studio 60 has all the heart a TV show could ever hope to have. It will make you cheer, tear up, grin like a bastard and break down. No, it isn't funny in the way it had to be. But it packed so much into so few episodes that there's absolutely no wasted episodes. It also wraps up nicely.
As for Reaper? Reaper is a Kevin Smith creation way the hell ahead of its time. If it had been on any other network it'd be considered a comedy classic. Ray Wise and Tyler Labine steal ALL THE SCENES. You can finish the whole series in days and when you do you can feel free to thank me.
The TRACY MCGRADY DIVISION
15 – Ally McBeal
14 – Fringe
13 – The OC
These shows had peaks as good as anything I've ever watched. They also had massive lows. Ranking these shows was tough.
I obviously love The OC and have written a few thousand words explaining why. I could justify Fringe in my top five if I had too. It was the perfect sci-fi drama when it was on and it was as close to cinema on network TV as you'll get. Ally McBeal? At its best it was hilarious with a lot of heart. At its worst it was cringe inducing and it really fell apart at the end.
But the highs carry these shows. When I think of these shows I think of the really great episodes and the memorable characters. I don't think about the terrible final seasons of Fringe or Ally and I've blocked season 3 of The OC from my memory. IT DID NOT HAPPEN.
The SENTIMENTAL FAVORITES
12 – Saved by the Bell
11 – Ducktales/Rescue Rangers/Tailspin/Darkwing Duck
10 – Wings
Elementary school, every damn day.
These are the shows I grew up with, no way in hell I'm leaving them off my list.
That Disney two hour block was amazing. Have there been four better consecutive shows in TV history? NOPE. If I ever have kids, they're growing up on this stuff too.
Fun fact: my 29 year old brother will still regularly flip on Wings and Saved By The Bell on Netflix. Not even gonna hate.
The UNDERDOG
9 – Happy Endings
Seriously, where the hell did this show come from? And why didn't anyone watch it?
No (live-action) show packed so many killer lines into every episode. Every spoken word was meant to be hilarious. Good luck figuring out who was best. They were all amazing.
THIS SHOW MADE ELISHA CUTHBERT HILARIOUS.
The GENRE TV TO END ALL GENRE TV (ALMOST)
8 – Supernatural
7 – Spartacus
6 – The Vampire Diaries
5 – Battlestar Galactica
You all can keep your Breaking Bads and Mad Men and Sopranos. I like my TV fantastical. I want regular every day characters put in situations you won't ever see in real life.
Supernatural is a show that's simply hurt by its staggering amount of episodes. Do you realize that it just finished season eight? That they're going to shoot ten? There will be over two hundred 45 minute Supernatural episodes by the time the show wraps up its run.
TWO FREAKING HUNDRED.
I could put together a full season of absolutely amazing Supernatural episodes that would rival the best shows ever put on TV. When it was great, it was the best thing that no one watched. If you're looking for something special, check out the later half of season one and don't stop until you finish season three. It's an amazing run.
Then it fell off a cliff. There was the occasional really good episode but they got scarcer and scarcer and eventually the show went off the rails and I gave up. I've heard good things about season eight(!) but I'm skeptical.
But still, it was an amazing show when it was at its best.
Spartacus is incredible. Game of Thrones gets all the love for those that like their shows incredibly violent and incredibly naked, but Spartacus blows GoT away in both. The villains are better, the heroes more relatable and more human, the drama more entertaining. Game of Thrones is great, but when its bad it seems like its trying to move chess pieces around on a board. Spartacus doesn't waste episodes like that. It's a show that leaves your balls in your thought when it's not showing them on-screen. Seriously, this is as progressive a show as we've seen, maybe ever. Lotta dick.
The Vampire Diaries are a joke to those that have never given it a shot. It gets swept up in the tween vampire wave (HEY TWILIGHT FUCK YOU) when in reality it's a violent, mature, often funny show that doesn't skimp on the HOLY SHIT moments. I like shows that leave your jaw on the ground. TVD has that in spades, whether it's killing off main characters or bringing back ones you thought were long dead. It doesn't mind screwing with its mythology and it's got serious wit.
And eye candy. Lots and lots of eye candy.
Battlestar Galactica was The West Wing on a star ship. Pick a social issue and it tackled it. There were twists and cliff hangers in almost every episode. There were mysteries that lasted multiple seasons. The jaw dropping moments were common. I can't get anyone I know to watch it because ROBOTS IN SPACE but that's their fucking loss.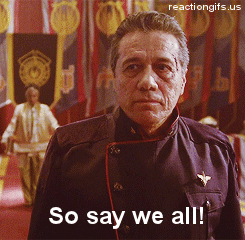 The FUNNIEST TV SHOW EVER
4 – Archer
"I don't like cartoons."
Do you know how many times I've heard that? THREE. It happened all three times I tried to get my friends to watch the funniest thing on TV going right now.
You cannot watch Archer and not laugh. It is not possible. I'm leaving this in the hands of the GIF GODS. (via UPROXX)
THAT ISN'T EVEN FROM A FULL SEASON (DUH) AND THERE ARE FOUR OF THEM AND SEASON FIVE STARTS SOON SO YOU CAN TOTALLY CATCH UP.
The JOSS WHEDON DIVISION
3 – Angel
2 – Buffy The Vampire Slayer
These two shows embody everything I love about TV. That list of requirements above? They check off every one:
• The proverbial BIG THINGS happen
• They're witty with smart dialogue (it's Joss Whedon, so of course)
• They hit every social issue out there
• You can't help but become completely invested in the characters
• You will lose your shit when those characters die
Yea, your favorite character? DEAD AS A DOORNAIL. And I loved the shows for it.
There were always consequences in Angel and Buffy. Nothing ever went unpunished, and no one was ever happy for long. Whedon was notorious for making his audience love a character and when things were looking up, after seasons of struggles and happiness was in sight, he'd pull the rug out from underneath the viewer.
And those moments were devastating. Even on repeat viewings I don't believe what I'm seeing.
Now granted, things weren't always terrible for our heroes. Both shows, Buffy in particular, were really really funny. It was a show for smart people who like quick dialogue. Angel was darker and almost noir and less optimistic. Not surprisingly, the finale (which was perfect) was a depressing hour of TV. R.I.P., world.
Both shows are essentially perfect. Smart, funny, sexy, mind-blowing, heart warming and heart wrenching. You'll scream and laugh and be pissed off and sad and confused. If you're looking for two shows to bring about an emotional response, it's Whedon's two masterpieces. There isn't much else you could ask for in television or movies or books or music…any media. This is almost as good as it gets.
The Best. Ever.
No way I'm justifying this selection in a couple paragraphs and I'll be writing more down the line.
But The West Wing is the best show of all time.